Welcome
COSA 2021 - Online - A Future Vision
COSA 2021 will be held as a virtual conference on Tues-Weds 19-20 October 2021 11am-4pm AEST
Pre-conference training is being offered on the days before COSA - Thursday, Friday, Monday 14-15,18 October.
This is remote training and can be booked via Mentor (search for 'COSA'). Training offered will be a Symphony Reports review; Symphony Serials review; BC Analytics Creating Dossiers; and BC Central/BC Cat/BC Circ with particular focus on the new security options.
Presentations that will be given at COSA include - When Disaster strikes ; Development of a Digital Archive ; CloudSource Open Access ; Developing Core Application Services ; Online User Registration ; Enterprise Rivers ; Custom EDI procedures for Acquisitions ; TALIS integration of Symphony and Mailchimp.
Registration link: http://go.sirsidynix.com/2021-10-COSA.html (includes agenda)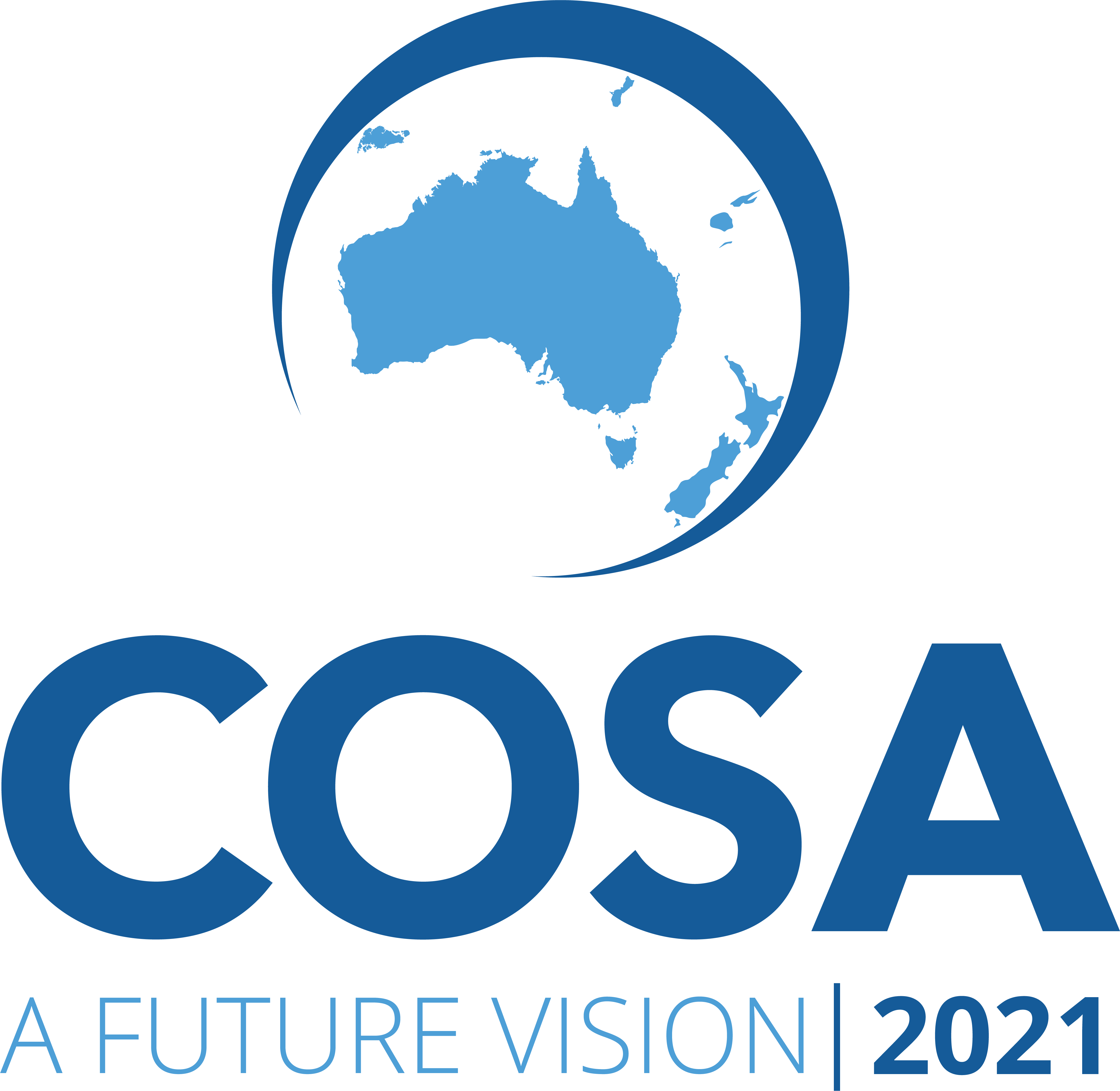 COSA 2021 AGM - Online
The Customers of SirsiDynix Australasia user group will be holding its Annual General Meeting online at 12pm (AEDT) Friday, 22 October, 2021. Register
HERE.
---
COSA 2020 - Melbourne, Rydges on Swanston , CANCELLED
Due to the on-going COVID-19 situation, the COSA committee has taken the difficult decision to cancel the 2020 Conference which had been scheduled to take place in Melbourne in October 2020.
We are hoping to re-schedule the conference in 2022, same city and venue and similar dates. We will post when this is confirmed.
We apologise for any inconvenience caused.
COSA 2019 - Sydney
After a successful 2019 conference in Sydney the presentations are available now under the Documents tab when you have logged in
Our keynote speaker this year was Matt Moore. Matt teaches on the University of Technology Sydney Masters of Digital Information Management. He has worked in knowledge management, learning and development, information technology, innovation, marketing and sales for organizations such as Seven West Media, PwC, IBM, ASIC and Oracle. He has written and spoken on knowledge management in relation to artificial intelligence, social media, and post-truth.
The full program is here. We had exciting presentations from customers and SirsiDynix staff including AIATSIS project with Australian Languages, Harvest Unleashed, Getting the most out of Enterprise (by customising Marc Maps, creating new facets with MarcEdit), Adding databases in Portfolio, moving to SaaS, Data Control, BC Lists, Libraries Australia update project, Google Analytics usage, Succession planning and more.
---
Is your library a member of COSA?
Membership is open to any site that is a current customer of SirsiDynix, and who is located in Australia, New Zealand or the Asia Pacific region.
Membership benefits include:
Discounted conference registration fees and pre-conference software training sessions
Up to 2 staff from a financial member institution or consortium may take advantage of discounted fees. Additional staff can attend at the non-member rates, or purchase additional memberships
Voting rights at the annual general meeting, held at the conference
One vote per financial membership
Ability to become a committee member, to shape the future direction of the group
Discounted conference registration fees for international SirsiDynix user group conferences, such as COSUGI in the USA and COSI EMEA (usually held in Europe)
Access to a members-only area on the website, with papers and presentations on SirsiDynix software
Access to COSUGI presentations from the USA
Free access to escrow arrangements for your institution negotiated on our behalf by the American user group COSUGI
---
Queries?
See the membership tab or email Bruce Morgan bmorgan@cityofparramatta.nsw.gov.au
---
Call for presentations - COSA 2021 needs YOU!
Have you done something interesting in your library with your SirsiDynix software? Have you found a creative way around a problem, or tried something that worked really well? Have your patrons responded positively to a development in your library processes, your website or your catalogue? Do you have something else related to brag about? Then join us in in October, 2021 and get a discount on registration fee when you tell us about it!
The COSA Committee is looking for presentations from libraries using SirsiDynix products, but remember: you don't have to present by yourself. Think you can't talk for a full session? Partner with another librarian/library or even a vendor you worked with on the project, and talk for half as long! Sessions are usually only 30 mins long.