Welcome to the COSA website
COSA 2016 Conference registration now open!
You can now register for the COSA 2016 Conference here - http://sirsidynix-cosa2016.eventbrite.com.
Early Bird registration price is available up until August 31.
Conference Dates –
Pre-conference training – Monday Oct 10, Tuesday Oct 11
Conference – Wed Oct 12, Thu Oct 13
Venue –
Novotel Geelong, 10-14 Eastern Beach, Geelong, Vic. 3220
The conference program is still being developed and will be posted as soon as available, replacing the draft information below.
We hope to see you at the conference!
The program is more or less completed, we are just finalising specific dayand times fo session, but we have put together some notes on the sessions we know will be offered so that you have some idea of content.
This year we have a keynote speaker; Patti Manolis, CEO of Geelong Regional Library who will speak after the welcome messages on Wednesday morning.
SirsiDynix presentations will include:
Product updates focussing on BLUEcloud development including BC Visibility, eResource Management, BC Lists, BC Analytics, BC Circulation, BC Acquisitions.
Sessions on new features and functions for our core Symphony and Horizon, what is going to be released and when over the next 12 months, what is being worked on longer term.
What's new wth consulting and training services, what you can find on the Support Portal
Extend your Horizon with Web Services
Libraries Australia SRU record update options
Confirmed presentations submitted from your colleagues:
BLUEcloud Analytics in use (panel with Swift and others)
HTML notices (Talis - API required)
Online User Registration, Notice scripts (Kotui)
Stackmap widget, QR codes & book discovery (Parramatta)
Migration into a consortium (panel with Swift, Kotui and others)
Setting up an Anytime Library (unattended book vending machine), the first in Australia (Rockhampton)
SAPLN three years on (SAPLN)
Proscribe integration - patron messaging (Swift)
Bulk loading MARC recods into Symphony (Chisholm)
Geelong new library and heritage building process (Geelong)
Please contact Lloyd Brady or Nathan Turner for more information
Pre-Conference Training:
Symphony System Administration refresher
BC Central, BC Cataloguing, BC Circulation
Web Services Workshop
Advanced Enterprise Development
API Advanced Report Writing
BC Analytics – Basic and Advanced
BC Analytics – Creating your own reports and custom metrics
BC Analytics – Stump the Chump
HIP Administration
Download the pre-conference training session timetable and details below.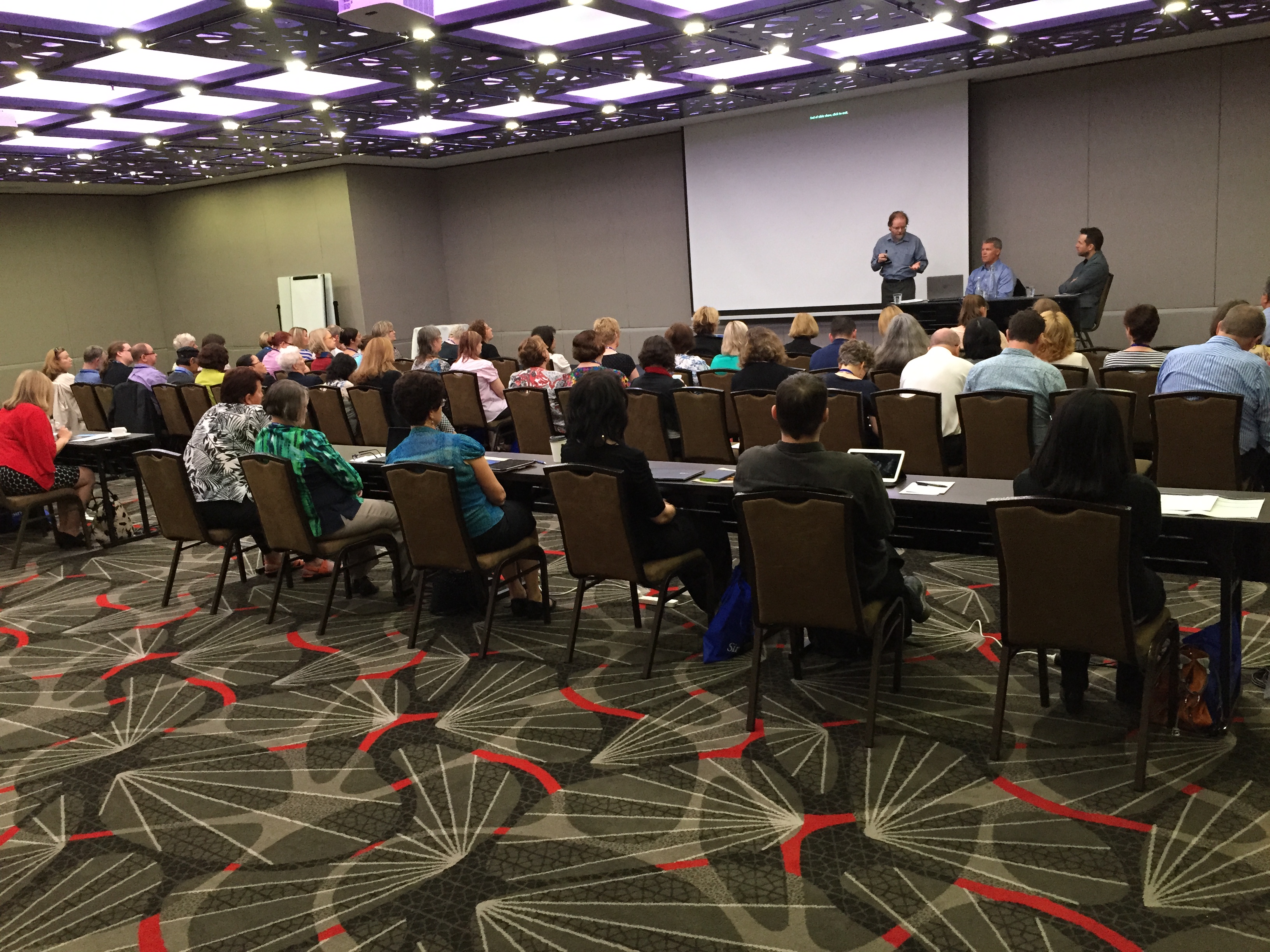 COSA 2016 wants YOU!
Have you done something interesting in your library with your SirsiDynix software? Have you found a creative way around a problem, or tried something that worked really well? Have your patrons responded positively to a development in your library processes, your website or your catalogue? Do you have something else related to brag about? Then join us in Geelong this 12-13th October, so your peers can watch in awe as you tell us all about it!
The COSA Committee is looking for presentations from libraries using SirsiDynix products, but remember: you don't have to present by yourself. Think you can't talk for a full session? Partner with another librarian/library or even a vendor you worked with on the project, and talk for half as long!
This year, we're also looking to hear from people who use BLUEcloud Analytics, import eBook bibs, send notices in html format- we have had requests for sessions on all these topics. Please let the Committee know if you are prepared to join in with any of these topics or something completely different, so we can plan the program.
The theme for COSA 2016 is 'Connect, Inform, Empower' - if this is something your library has done, then give us a call!